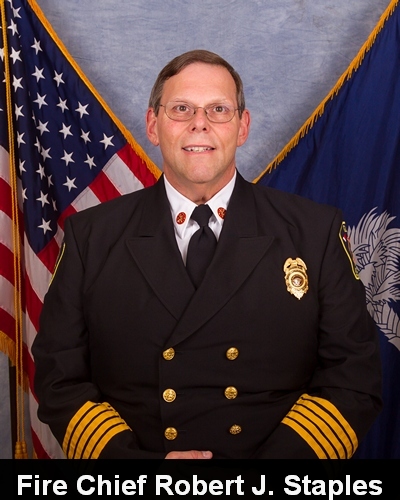 Welcome to the Glassy Mountain Fire Department Web site. Please take a few moments to browse our pages.  Within these pages you will see a sampling of the programs we offer in our mission to reduce the loss of life and property to our citizens and visitors. Glassy Mountain Fire Service Area is a Special Taxing District covering 52 square miles of northern Greenville County, SC, an area often known as "The Dark Corner".
WELCOME NEW FIREFIGHTERS TO GMFD
I am pleased to announce we have hired three new firefighters to fill the recent vacancies.
Firefighter Wesley McGowans began his orientation with the department on March 7th. He will begin his full time employment on March 20th.  Wesley comes to use from the Glendale and Croft Fire Departments. Wesley currently resides in Cowpens but will be relocating to the Travelers rest area sometime in the near future.
Firefighter Hunter Ward started full time with the Glassy Mountain Fire Department on March 10th. Hunter recently served with the Lake Cunningham and Travelers Rest Fire Departments and has served as a Cadet, Volunteer, and Part Time employee with Glassy Mountain.
Firefighter Gerard (Guy) Decocker will start his career as a firefighter with Glassy Mountain on April 7th. Guy currently serves as an EMT with Family Medical Transport and as a volunteer firefighter with the C & B Fire Department in Ladson. Guy and his girlfriend will be relocating to the Upstate from the Charleston area in the near future.
Please join me in welcoming Wesley, Hunter, and Guy to the GMFD team.
IT'S WHAT WE DO!
We Train….We Train….We Train….
Glassy Mountain Fire Department is proud to be one of the largest, and best trained Combination Departments in the Upstate.  The agency consists of 11 Career Staff and and roughly 44 Volunteers.   Of the approximately 55 Members, 30 are trained Firefighters, 16 EMT's, 5 Paramedics, and 4 Emergency Medical Responders.  Presently there are 2 Trainees, 6 Support Members and 9 Cadets.  Training, Recruitment, and Continual Improvement are department priorities.  During 2016 Volunteer Hours exceeded 16,000 hours, a value of $360,912.

WHY WE DO IT!
To Save Lives and Protect Property
WE TRAIN to learn the techniques and sharpen the skills that are needed, when our services are called upon,.
WE TRAIN to meet the expectations of our community, our friends, our neighbors by providing timely and effective services.
WE TRAIN to save the lives and protect the property of the residents within our district.
WE TRAIN to be the very best that we can be.

THE SERVICES WE PROVIDE:
Fire Suppression  –  Search and Rescue
Medical Response (Advanced EMT)
We are proud to announce that Glassy Mountain Fire Department  has joined the short list of agencies authorized to operate at the AEMT and Paramedic level in Greenville County.

We Are Your Firefighters!
Fire and Life Safety Code Compliance
Public Education
Volunteer — We Need Your Help NOW!  Being a member of the Glassy Mountain Fire Department offers rewards few other things in life can match.   Whether serving as a volunteer firefighter, rescue or emergency medical technician, cadet or support member, few opportunities can provide the sense of pride that comes from knowing you are making a difference in the lives of others, something we experience every day!    I am your Firefighter!
Am I a Fireman Yet?
(a must read taken from)
The Littlest Fireman