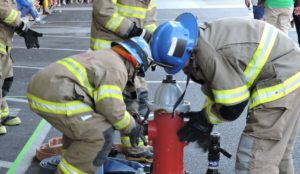 In 2011, we transitioned our youth learning initiative from Exploring to a Fire Cadet Program recognized by the National Volunteer Fire Council (NVFC).  We are very proud of the youth who have participated in our Explorer program over the years and we are excited about this new concept and foresee many opportunities for our Cadets.  The NVFC hosts annual firefighting competitions involving teamwork, as well as scholarships for individual active members and national group honors.   
The Fire Cadet Program provides young men and women (ages 16 through 18) an exciting opportunity to learn about firefighting and emergency medical services as potential future career choices.  Cadets come from our community and participate in department training activities, meetings and ride-along opportunities.  All Cadet activities are closely supervised by GMFD personnel and Cadets must adhere to standards of good conduct.  The program develops character and leadership qualities in a friendly and professional setting and provides youth with positive adult and peer role models in a safe and supervised environment.
I am your Firefighter!

Applicants to the program must meet and comply with the following criteria to qualify for the GMFD Cadet Program:
Be at least a freshman in High School & 16 years of age.
Be of good character.  
Have no criminal record.  
Obtain written, notarized permission from a parent or  guardian to participate.  
Show proof of good standing in academics from a high school.  
Willing to obtain a physical (paid for by the Department) at the time of application.
For more information on our Fire Cadet Program, please visit our Headquarters at 2015 Highway 11, call at 864-895-4306 or email info@gmfd.net. 
To apply for membership please print and complete the Cadet Application and the other 2  forms found on the Application Page.
Hits: 870