Captain Rafferty – A Battalion
Russell Rafferty joined the department in April 2016 to fill the position of Captain of "A" Battalion with responsibility for Training and Safety.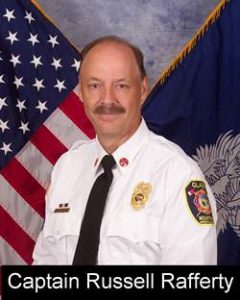 Captain Rafferty has more than 30 years of fire service experience with his last assignment as Deputy Chief of Operations, EMS, and Training for the City of Deltona Fire Department in Deltona, FL.  Prior to taking on the position in Deltona, Russ served with the City of Port Orange Department of Fire and Rescue where he began his career in the fire service as a volunteer/part time firefighter in 1982 rising through the ranks as an Engineer, Lieutenant, Shift Commander, and finally as Division Chief of EMS. He is a certified National Registry Paramedic, EMS Instructor, Fire Service Instructor, Fire Inspector, Fire Officer, and Health and Safety Officer.
Captain Rafferty holds an Associate's degree in Emergency Medical Service, Bachelor's degree in Organizational Management, and is a 2010 graduate of the National Fire Academy's Executive Fire Officer Program.  Captain Rafferty has become an excellent addition to our staff.
Russell and his wife Sabrina have two (2) children, Bryant lives in Virginia and Serena is attending college in Florida.  Russ and Sabrina have purchased a home in the Blue Ridge area of Greer.  He is an avid Chicago Bear fan and enjoys tennis and spending time with his family including his three boxers Wrangler, Minnie and Peytyn.
We are blessed to have Captain Rafferty and his wife Sabrina as part of the Glassy Mountain Fire Department family.
---
Captain Crain  – B Battalion
Captain Timothy Randy Crain joined the staff of Glassy Mountain Fire Department in March 2019 as FF/EMT with A Battalion bringing over 10 years of Emergency Services experience to the department.  Randy quickly rose to the ran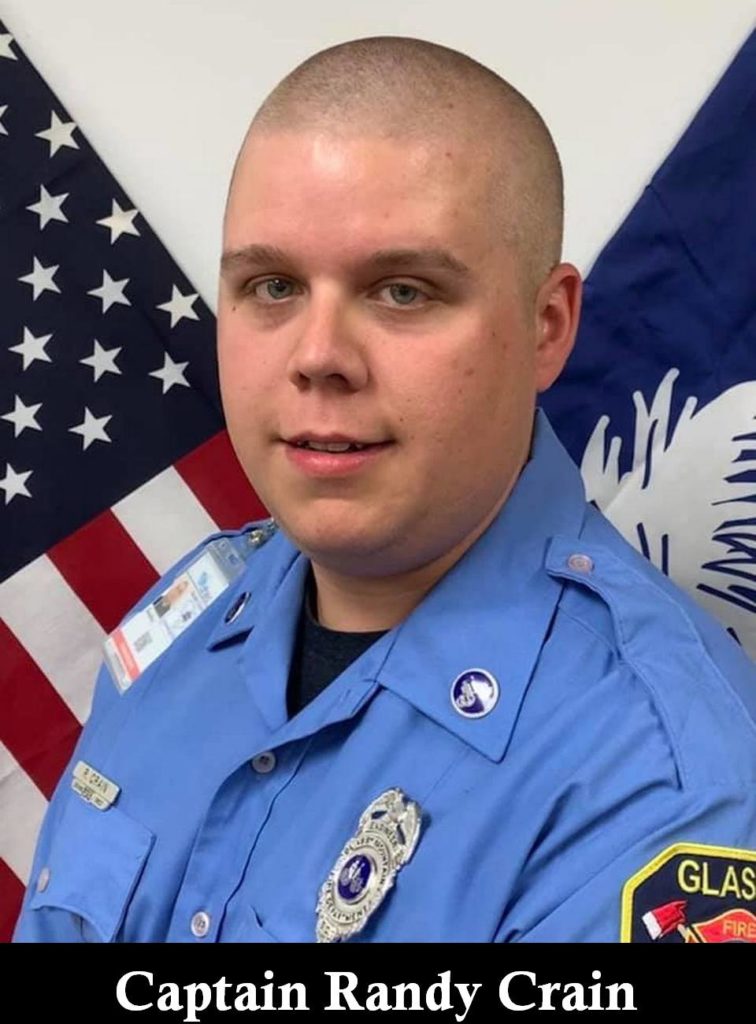 k of Engineer and was promoted to Captain in July of 2020. 
The Captain began his Fire Service career with the Laurens County Fire Service in the Explorer program, worked his way up to Volunteer Firefighter, and went on to obtain EMT certification.  After obtaining his EMT, Randy served as Medical Officer, and Assistant Training Officer with the department.  He spent 5 years working in EMS prior to becoming a full time Firefighter/EMT with Boiling Springs Fire District in Greenville, SC. 
After spending a few years with the Boiling Springs Fire Department, Randy moved on to his current career with Glassy Mountain Fire Department.   He has since obtained his Paramedic Certification, and is currently working to obtain a Bachelors' degree in Management.  The Captain is also an American Heart Association Instructor and EMT Adjunct Instructor.  He is IFSAC Firefighter II certified, and a Member of the SC FAST team. 
Randy and his wife Kylah have two lovely daughters, Leah Grace, and Alaina Faith.  The Captain and his family currently reside in Laurens County.
---
Captain Countryman – C Battalion
Captain Michael Countryman began with the department in April 2017 as a Part-Time Employee and came full time in December of 2017 quickly rising to the rank of Captain in 2019.   Captain Countryman brings over 13 years o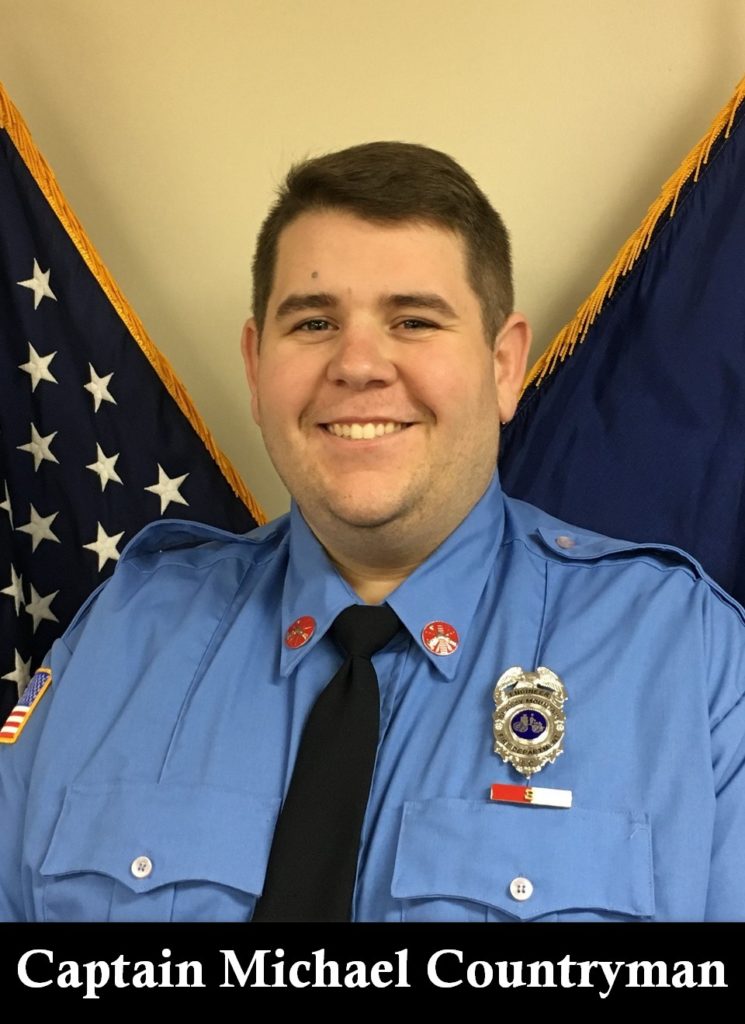 f emergency services experience between Fire and EMS and works to continue the growth of the department and development of new members. 
The Captain is a Certified National Registry Paramedic, Fire Instructor, Fire Officer 2, and South Carolina Fire Marshal with International Code Council certification as a Fire Inspector 1.  Michael has a passion for emergency services, serving not only with Glassy Mountain Fire Department; but also Greenville County EMS, Greenville County ERT, and regional and state Urban Search and Rescue task forces as a Paramedic and COMT.  With GMFD he serves as the Battalion Commander of C shift and oversees the fire prevention and community risk reduction programs providing guidance for business compliance inspections, fire and life safety plans reviews, and facilitating the adoption of fire code by the district.  
Michael is also the Cadet coordinator; which is only fitting as he started his fire service career in 2007 in the Explorer program.
When not at work, Michael spends his time with his wife Hannah who works as a NICU nurse and his three dogs Finn, Daisy, and Penny.  Michael enjoys watching Clemson Football, Golf, and Boston Bruins hockey. 
Hits: 1138