Welcome to the Glassy Mountain Fire Department Website. Please take a few moments to browse our pages where you will see a sampling of the programs we offer in our mission to reduce the loss of life and property to our citizens and visitors.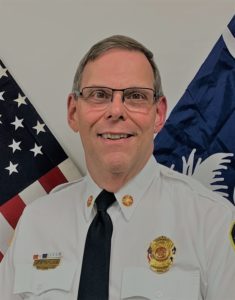 The Glassy Mountain Fire Department was founded in 1988 as a volunteer organization to provide basic fire protection and emergency medical response within 52 square miles of northern Greenville County.  Over time, the department has grown to a combination fire agency with career staff, part-time staff, volunteers and cadets all working to provide superior fire and emergency medical services to a population of roughly 9,000 people. (For more history of the Glassy Mountain Fire Department, please visit our "History" Page.
Throughout the years the department expanded to its current complement of five fire stations, equipped with six engine companies, four rescue units, three brush trucks and three 2,000-gallon water tankers. The minimum on-duty staff is four personnel per 48-hour shift augmented by volunteers that either staff fire stations or respond from home as the need arises.
The fire department responds to more than 600 requests for service annually varying in type from assisting persons back into bed, emergency medical services, motor vehicle accidents, weather-related, wildfire and structural fires. As an all-hazards department we are ready for most any situation that presents itself including rope rescue, confined space rescue, vehicle extrication and minor hazardous materials incidents.  During 2019 the Glassy Mountain Fire Department had a very busy and productive year. We closed out the year with 690 alarms, a 9.5% increase from 2018*. This is at least the 4th straight year of increases in requests for service.
*-In District calls
In 2017 we began providing Advanced Life Support (ALS – Paramedic) service to the residents of the district and surrounding communities to fill in gaps associated with long response times to our remote areas by Greenville County EMS. In fall of 2019 we expanded to a second ALS unit at the Beaver Dam station (Station 35) to better serve the residents of the western portion of the district. Glassy Mountain is one of only two fire departments in Greenville County to provide this level of service.
We take great pleasure in serving the citizens and visitors of the Heart of the Dark Corner. If you have any questions, concerns, comments or suggestions about the fire department, please feel free to contact me at rstaples@gmfd.net.
Hits: 1448