Welcome to the Glassy Mountain Fire Department Web site. Please take a few moments to browse our pages. Within these pages you will see a sampling of the programs we offer in our mission to reduce the loss of life and property to our citizens and visitors.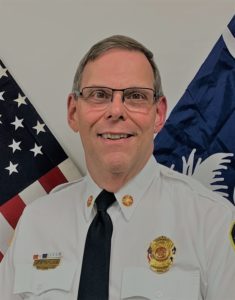 The Glassy Mountain Fire Department was founded in 1988 as a volunteer organization to provide basic fire protection and emergency medical response within 52 square miles in northern Greenville County.  Over time, the department has grown to a combination fire agency with career staff, volunteers and cadets all working to provide superior fire and emergency medical services to a population of roughly 8,000 people. (For more history of the Glassy Mountain Fire Department, please visit our "30 Years" History Page.
Throughout the years the department expanded to its current complement of five fire stations, equipped with six engine companies, five rescue units, four brush trucks and four 2,000-gallon water tankers. The minimum on-duty staff is three personnel per 48-hour shift augmented by volunteers that either staff fire stations or respond from home as the need arises.

The fire department responds to more than 500 requests for service annually varying in type from assisting persons back into bed, emergency medical services, motor vehicle accidents, weather-related, wild fire and structural fires. As an all-hazards department we are ready for most any situation that presents itself including rope rescue, confined space rescue, vehicle extrication and minor hazardous materials incidents.  During 2016 Glassy Mountain Fire Department had a very busy and productive year. We closed out 2016 with 513 alarms, a 8.46% increase from 2015. This is at least the 4th straight year of increases in requests for service.
In 2016 we added Engine 34 which is a first of its kind unit in northern Greenville County.  This unit is equipped with a Compressed Air Foam System (CAFS) which makes better use of water to suppress fire more quickly and with less residual damage to contents and less stress and strain on our firefighters.  In early 2017 the department also added a new Rescue unit which will be housed at the Beaver Dam station (Station 35).
 Greenville County has selected to become a part of the state's Palmetto 800 radio system. This statewide system enables all users to function throughout the state and can link any of the radios in the system to towers in any area. As part of Greenville County moving to the system, Palmetto 800 will construct two towers in northern Greenville County to address potential gaps in the area. This will be especially important to Glassy, River Falls, Tigerville, Slater-Marietta, and Gowensville. As part of this effort, the Greenville County Fire Chiefs' have secured $1.6M in AFG funding and has placed an order for more than 400 Kenwood Public Safety grade mobile and portable radios. 
The new radios, in addition to the countywide station and apparatus numbering system, will bring true interoperability and functionality to all users in the public safety arena (police, fire, and EMS).  Look for a countywide Accountability and Personnel Tracking system (probably what we are already using) to come forward from the GCFCA. This way we will all be using the same Accountability system which will again increase interoperability between departments.
We take great pleasure in serving the citizens and visitors of the Heart of the Dark Corner. If you have any questions, concerns, comments or suggestions about the fire department, please feel free to contact me at rstaples@gmfd.net.