Chief Staples joined the Glassy Mountain Fire Department in December of 2013. Chief Staples has more than 40 years of emergency services experience and more than 25 years of fire service experience.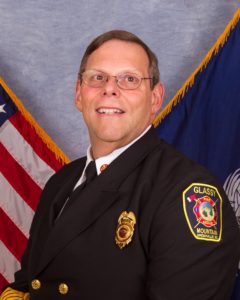 Prior to moving to South Carolina, he served as the Fire Chief of the City of Deltona, Florida Fire Department rising through the ranks to the position of Fire Chief in 2008. He started his emergency service career in 1975 as a First Aid Explorer with the Hillside Ambulance Squad, a volunteer organization serving the township of Hillside, New Jersey.  Bob also volunteered his time with the AMVETS Ambulance Corp in Irvington, New Jersey and the Union Township EMS also in New Jersey. 
Throughout the years, he work as an Emergency Medical Technician, Paramedic and EMT instructor teaching at the University of Medicine and Dentistry in Newark, NJ. Relocating to Florida in 1988, he served with EVAC Ambulance (now Volusia County EMS) in Daytona Beach and realized his childhood dream of being a Firefighter/Paramedic (Like Johnny and Roy in Emergency!) in 1991 when he was hired by the then Deltona Fire District in what became the City of Deltona in 1995.
Bob holds an Associate's degree in Emergency Medical Services, Bachelor's degree in Organizational Management, and a Master's degree in Management and Administration of Educational Programs. He is a recent graduate of the National Fire Academy's Executive Fire Officer Program (EFO) and is a designated Chief Emergency Medical Services Officer (CEMSO) and Chief Fire Officer (CFO) by the Center for Public Safety Excellence Commission on Professional Credentialing.
Chief Staples has a passion for mentoring others and ever-improving the emergency services profession. He continues to teach CPR, First Aid, and EMT programs to those entering the profession and the community he serves.
Hits: 1255