GMFD IN THE NEWS
"Preserving Our Heritage – Protecting Our Future"
---
Please take a few moments to browse our pages.  Within these pages you will see a sampling of the programs we offer in our mission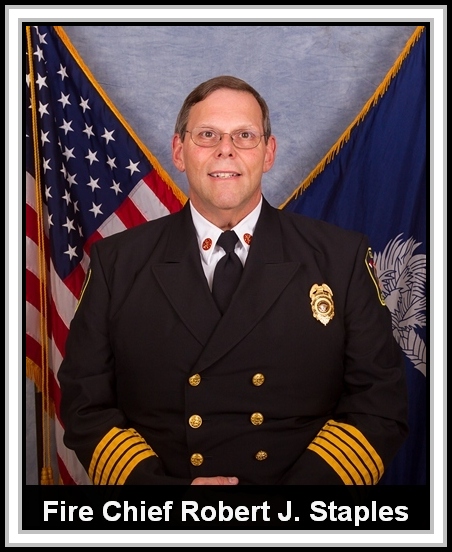 to reduce the loss of life and property to our citizens and visitors.
Since 2017 the GMFSA has provided Advanced Life Support (ALS)-Paramedic level response to its district which covers 52 square miles of the Upstate of Greenville County.  QRV 34 also provides coverage for critical medical calls in our bordering agencies when requested.
The GMFSA is a Special Tax District of Greenville County, South Carolina providing emergency response for fire protection; medical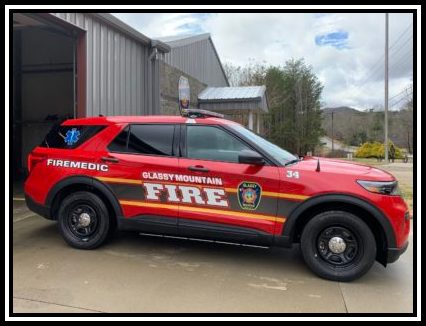 services; rescue events; all hazards education, and building surveys/inspections.   The District is located in northern Greenville, SC, an area often known as "The Dark Corner".

We operate with a full-time Chief; an Administrative Manager, twelve career firefighters and approximately 45 volunteer firefighters, cadets, and first responders who serve at five fire stations housing 22 pieces of apparatus. The GMFSA is a Class 3 Insurance Service Office (ISO). We are a public tax-supported department formed by Greenville County Council in 1988 and are overseen by a seven member Board of Commissioners elected by District residents. .
Our 5 stations are: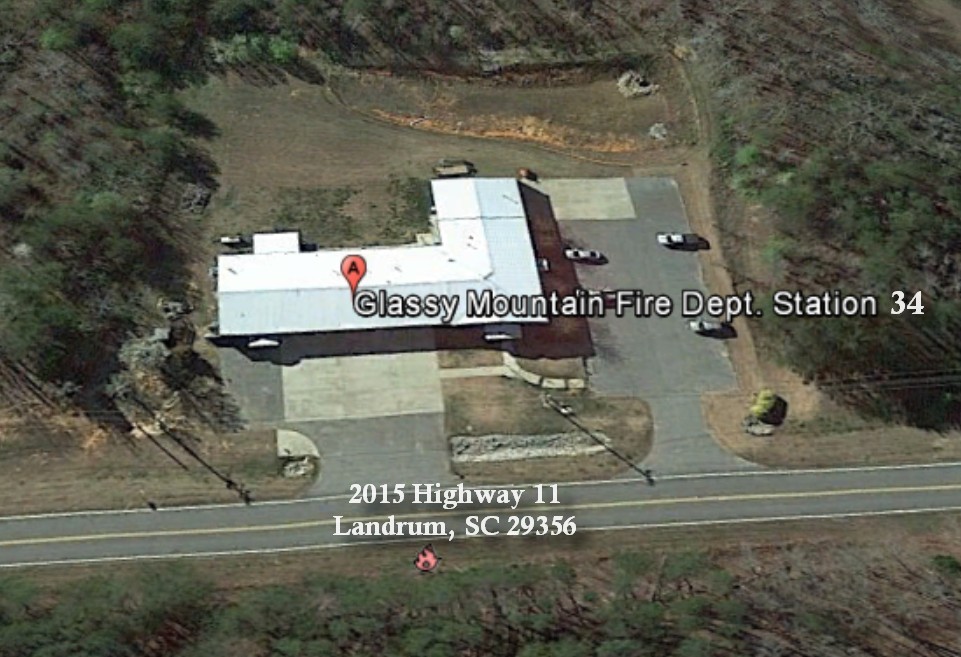 Headquarters Station #34 at 2015 Highway 11, Landrum
Beaver Dam Station #35 at 315 Beaver Dam Road, Travelers Rest
Oak Grove Station #36, 400 Oak Grove Road, Landrum
Dividing Water Station #38, 49 Dividing Water Road, Travelers Rest
Cliffs at Glassy Mountain Station #37, 3 Rolling Hills Lane, Landrum.

IT'S WHAT WE DO!

Glassy Mountain Fire Department is proud to be one of the largest and best trained Combination Departments in the Upstate.  Training, Recruitment, and Continual Improvement are department priorities.
WHY WE DO IT!
To Save Lives and Protect Property
WE TRAIN to learn the techniques and sharpen the skills that are needed, when our services are called upon.
WE TRAIN to meet the expectations of our community, our friends, our neighbors by providing timely and effective services.
WE TRAIN to save the lives and protect the property of the residents within our district.
WE TRAIN to be the very best that we can be.

2021 has been a busy year with 660 responses as of Dec. 31st.   We continue to be a leader in EMS care in northern Greenville County influencing others to step up their role in providing medical care to their constituency.
SERVICES WE PROVIDE
Fire Suppression
Search and Rescue
Fire and Life Safety Code Compliance
Public Education
This is an exciting time for the Glassy Mountain Fire District.   The ability to better serve our residents and visitors that are experiencing a medical or traumatic event will have a significant impact on the health and longevity of those we serve.

We Are Your Firefighters!

Interested in being part of our team?
Being a member of the Glassy Mountain Fire Department offers rewards few other things in life can match.   Whether serving as a volunteer firefighter, rescue or emergency medical technician, cadet or support member, few opportunities can provide the sense of pride that comes from knowing you are making a difference in the lives of others, something we experience every day! 
Hits: 111327