Welcome to the Glassy Mountain Fire Service Area (GMFSA) Web-Site.   Please take a few moments to browse our pages.  Within these pages you will see a sampling of the programs we offer in our mission to reduce the loss of life and property to our citizens and visitors.   The  GMFSA is a Special Taxing District covering 52 square miles of northern Greenville County, SC, an area often known as "The Dark Corner".
CONGRATULATIONS!
Kelly Murphy has been promoted to the position of Administrative Manager effectively immediately.

Kelley has been serving as the department's Administrative Coordinator since May of 2014.  Since that time, her roles and responsibilities have
dramatically changed and her position is more managerial than that of a coordinator or assistant. 
Kelley is responsible to all of our financial records (for the District, Foundation, and 1% Association), accounts payable, payroll, human resources, benefits coordination and management, records management, and coordinator of the Board of Commissioners schedules, agendas, minutes, and more.  This promotion is in recognition of Kelley's evolving rolls and responsibilities as an integral part of our organization and its success.

Hunter Ward and Don Blanchard attained National Registry EMT Certification.

Hunter and Don completed their EMT training at Blue Ridge Technical College via the hybrid EMT program.  Completing the hybrid program takes dedication to the online, self-paced portion and attending some face-to-face lectures and hands-on lab sessions, bringing the education together to pass the final written and practical exams and then the National Registry exam.
Well done!
MEET THE CANDIDATES!
CLICK HERE to Meet the Candidates!
IT'S WHAT WE DO!
We Train….We Train….We Train….
Glassy Mountain Fire Department is proud to be one of the largest, and best trained Combination Departments in the Upstate.    Of the approximately 60 Members, 30 are trained Firefighters, 9 EMT's, 10 Paramedics, and 15 Emergency Medical Responders.   Training, Recruitment, and Continual Improvement are department priorities.  During 2016 Volunteer Hours exceeded 16,000 hours, a value of $360,912.   During the month of June, 2017 Members trained for a total of 380 hours.

WHY WE DO IT!
To Save Lives and Protect Property
WE TRAIN to learn the techniques and sharpen the skills that are needed, when our services are called upon,.
WE TRAIN to meet the expectations of our community, our friends, our neighbors by providing timely and effective services.
WE TRAIN to save the lives and protect the property of the residents within our district.
WE TRAIN to be the very best that we can be.

THE SERVICES WE PROVIDE:
Fire Suppression  –  Search and Rescue
Medical Response
(Advanced EMT / ALS Paramedic)
Effective August 1, 2017 Glassy Mountain Fire Department began providing Advanced Life Support (ALS – Paramedic) EMS services from its Headquarters location at 2015 Highway 11.  GMFD joins the South Greenville and Mauldin Fire Departments in providing ALS first response in Greenville County in conjunction with Greenville County Emergency Medical Services.
With the addition of licensure as a Department of Health and Environmental Control (DHEC) ALS provider, GMFD personnel will be able to provide 40 medications, place advanced airways, and treat life-threatening cardiac dysrhythmias.  These medications and procedures enhance the level of pre-hospital care to the residents and visitors of the Glassy Mountain Fire Service Area and beyond.   If someone is suffering a heart attack or stroke, minutes make the difference between life and death.
Glassy Mountain Fire Department's Quick Response Vehicle (QRV) augments Greenville County EMS' response system and will serve as an additional resource in the northern part of the county.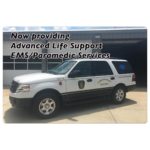 GMFD employs five full-time paramedics and six part-time and volunteer paramedics, most with many years of experience in delivering pre-hospital care.
This is an exciting time for the Glassy Mountain Fire District.   The ability to better serve our residents and visitors that are experiencing a medical or traumatic event will have a significant impact on the health and longevity of those we serve.
We Are Your Firefighters!
Fire and Life Safety Code Compliance
Public Education
Volunteer — We Need Your Help NOW!  Being a member of the Glassy Mountain Fire Department offers rewards few other things in life can match.   Whether serving as a volunteer firefighter, rescue or emergency medical technician, cadet or support member, few opportunities can provide the sense of pride that comes from knowing you are making a difference in the lives of others, something we experience every day!    I am your Firefighter!
Am I a Fireman Yet?
(a must read taken from)
The Littlest Fireman